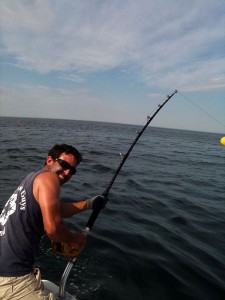 Maine offshore deep sea fishing consists of fishing for bluewater species that patrol deeper areas including ground fish, sharks, and tuna. During a Maine offshore charter trip, we focus on areas of structure found in the deeper water where these large predatory fish herd and pin the bait and attack.
We utilize a variety of techniques for offshore deep sea fishing to target these species depending on the depth and structure. Some of the offshore techniques we use include deep jig fishing, bottom bait fishing, and live lining. We deep drop jigs and bait for the various groundfish found on top of ledges. We live line baits on the edges of underwater canyons and ledges for tuna, and we explore the deep water off the ledges for sharks.
In addition to the great fishing you can experience offshore, you will have the opportunity to see a variety of marine life. We frequently encounter various marine mammals including whales, sea turtles, porpoises and sea birds. Our Maine offshore charter trips are something that everyone should experience!