Bluefish are available and very voracious. Sometimes a little too voracious as they are difficult to keep off of the line. They do put up a great fight though and can be a lot of fun.
Maine Bluefish Trip Information: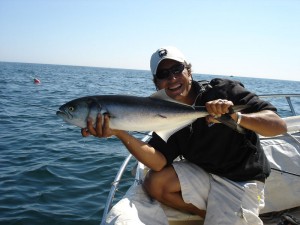 We frequently encounter Bluefish on our fishing trips and they tend to invade the waters unannounced all of a sudden ripping up your lures or bait and anything else that gets in their way. We target Bluefish on our inshore fishing charters using the same methods we use for Striped Bass fishing. It is not uncommon to catch Bluefish while fishing for Striped Bass and vice versa.
The most exiting method to catch Bluefish is to target them near the surface using top water plugs and flies. Frequently you see the whole thing with the Bluefish chasing down the lure and exploding for the attack. It can be quit heart pumping action and is a great time! Once hooked, Bluefish are very hard fighters and a lively fish that jump, peel drag, and bull their way through the entire fight.