Maine Striped Bass fishing can be simply spectacular! We have schoolie Bass that spend most of the year here, but during the migration there are true Cow Bass that show up on their journey north. Depending on the weather and the migration patterns, this can occur as early as April.
Striped Bass Trip Information: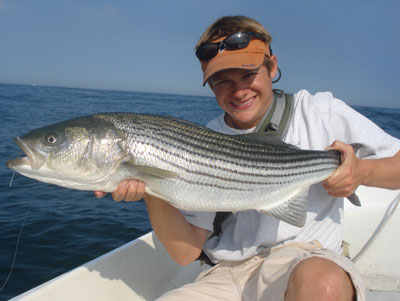 Striped Bass can be caught many different ways with a variety of different types of tackle from fly fishing and light tackle to spinning rods and baitcasting. Striped bass are opportunistic feeders and can be caught with each of these methods depending on the conditions and the angler's skill level. This factor is what makes fishing for striped bass so much fun. In addition, stripers are hard fighting fish that makes short bursts, and have a bullish attitude and are a blast to catch!
I am prepared and have the resources for fly fishing, top water action, soft plastics, or live bait depending on the type of fishing you prefer and the conditions at the time of your trip. Each trip can be customized as it is my firm belief that this is your trip, and you should fish the way you want to.