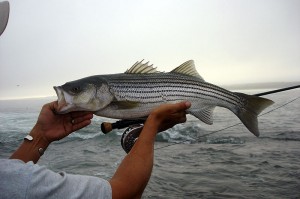 Inshore trips focus on fishing for Striped Bass, Bluefish, Mackerel and Pollack. We spend the time looking for structure and areas where these fish congregate and when conditions are right can fish to blitzing fish on the surface!
We fish a variety of structure types including ledges, beach fronts, jetties, inlets, and island coves. We frequently move and cover different areas until we dial in the fishing. It is a great time stalking the Maine coastline fishing the many structures that exist in the area.
An added bonus to inshore fishing trips is the amazingly beautiful scenery and backdrop of the New England Coastline. There are frequently opportunities for spectacular photographs of the landscape and wide variety of different marine mammals and birds.